MY PASSION
"It's not just about the miles."
My passion for running began during the late 70's right after high school as a means to stay fit. Growing up and living in Northern California, I made use of my easy access to the miles of bike and horse trails along the American River. I was self trained and hadn't a clue as to what I was doing. I just went out every chance I got and ran the trails. Before I knew it, I had built up enough endurance to run my first full marathon (San Francisco), that was back in 1979. I've been hooked ever since.
Fast forward to 2015 when I ran my first ultra event, the American River 50-mile. At the age of 54 I had managed to accomplish a near-forgotten goal, an ultra trail run that I had on my mind off and on since the 70's. I'm in my 60's now, having survived a rare cancer which has significantly curtailed my running for the last few years, but I feel like I still have many more miles left in me; events to train for; runners to coach, and new friends to meet.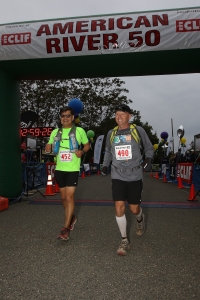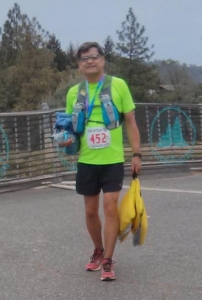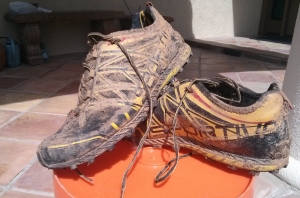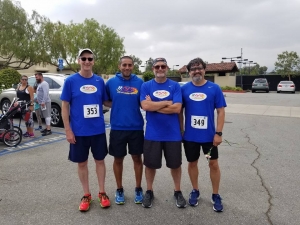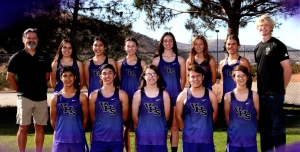 Knowledge, Expertise, Experience
Unbeknownst to me at the time, my coaching career began in 2000, starting out as a parent volunteer assistant helping coach my son's youth cross country team in the Santa Clarita Valley. This led to becoming the youth team's Head Coach charged with a roster of almost 70 runners. With head coaching duties, came a desire to become more knowledgeable about training and coaching my young charges; eventually obtaining coaching certifications through USA Track and Field (USATF). My desire for knowledge continued afterward with other certifications from the Road Runner's Club of America (RRCA), Dr. Jack Daniel's Smart Project, and the National Federation of State High School Associations (NFHS) etc. I now coach Boys and Girls high school cross country at a small rural public high school in northern Los Angeles County alongside my online coaching business, Running Workx LLC since 2014. Coaching runners of all ages has become my "second act" after a career in urban planning.
As I've gotten older, "running" for me has expanded in many ways. It has given way to a desire to help others enjoy what I have for most of my adult life; assisting with their running goals and coaching in the ways of training and running as a lifestyle. There's nothing more exciting than introducing new runners young and old to the wonders of distance running, endurance training, and discovering your untapped potential. I've jumped in and love it just as much as running itself!
USA Track & Field Level 2 Certified Coach – Endurance
USA Track & Field Certified Cross Country Specialist
VDOT 02 Certified Distance Running Coach
High School Cross Country/Track Head Coach
Former Youth Cross Country/Track Coach
Personal & Coaching Experience: 5k to Marathon & Ultras
USA Track & Field Level 1 Certified Coach – Track & Field
USA Track & Field National Registry Coach
RRCA Certified Long Distance Running Coach
NFHS Accredited Interscholastic Coach
Red Cross Adult & Pediatric First Aid/CPR/AED Certified
Not all coaches are alike. There are some important elements that drive how I approach the coaching of my clients and athletes. These include: my Coaching Philosophy, my Coaching Style, and my Training Philosophy.
The focus is always on what is in the best interest of the runner/client. Without doubt, I believe that an emphasis on the long-term development of the runner is more likely to produce better performance, greater consistency and more satisfaction for the runner/athlete and coach than will an overemphasis on winning or racing. I strive to deliver a consistent and positive message to the runners I coach with a long-term vision, valuing their trust above all else. Without a strong bond between runner and coach, higher levels of commitment and performance are not possible. A Focus on the process of long-term development rather than on short-term outcomes ensures a positive experience that reinforces confidence even when things don't go right.
I aspire to and promote what could best be described as a "Cooperative Style". This style of coaching provides guidance and structure, but allows and encourages the necessary physical and psychological development to occur in an environment that places significant importance on the feedback, thoughts, and input of the runner/athlete. My style is an "athlete centered" coaching approach that embraces the notion that working in concert together, you will achieve superior success. Consequently, the fit, or match if you will, between client/athlete and the coach cannot be overemphasized. Ultimately, if you don't like your coach's style or how they do or do not communicate with you, or by providing timely feedback, your long-term success and development will be limited and will likely not be enjoyable for either you or your coach. Therefore, finding a certified running coach you like, have confidence in, and can get along with, will go a long way toward making your distance running endeavors enjoyable and fruitful.
TRAINING PHILOSOPHY
My approach to training, especially with new and less experienced recreational runners is to employ a gradual, long-term development plan that places equal importance on proper recovery. I believe in periodization, albeit at a more modest level, for all runners; even non-competitive runners. This creates a structure that is more conducive to progressively challenging the runner, which encourages growth and development, while abating staleness through the thoughtful exposure and application of a variety of workout types. Another important facet of my training approach is to inform and educate my client/runners on the rationale behind specific work sessions, work loads, intensities, etc. and on a variety of other related subject areas as may be appropriate.
Coach Mike's
Qualifications
Education, experience, expertise and a desire to improve my craft.
USA Track & Field Level 2 Certified Running Coach – Endurance;

USA Track & Field Level 1 Certified Coach – Track & Field;

USA Track & Field Certified Cross Country Specialist;

USA Track & Field National Registry Coach;

U.S. Center for Safe Sport Certified;

Road Runners Club of America Certified Distance Running Coach;

VDOT O2 Certified Distance Running Coach – Dr. Jack Daniel's, Run SMART Project;

National Federation of State High Schools Associations (NFHS) – Accredited Interscholastic Coach (AIC);

AAF Cross Country Coaching Program;

AAF Track & Field Coaching Program;

Adult & Pediatric First Aid/CPR/AED Certification (Red Cross)
Owner/Coach of Running Workx LLC since 2015



2018-2021 – Cross Country Head Coach (Girls & Boys), Vasquez High School (CIF-Div. V); **Girls 2021 Team League Champions** ; 2021 Heritage League "Coach of the Year";




Cross Country/Track Head Coach (Girls & Boys), AV Academy Charter High School – Girls Team: **3rd Place 2016 "CIS" Cross Country State Championship**;

Instructor/Coach, City of Lancaster Parks, Recreation & Arts Department; Beginning Running Classes and Workshops for Aging Adults;

Former Head Coach, SCVAA Cross Country Team (Girls & Boys) – Combined (28 individual runners) appearances in the USATF Junior Olympic Cross Country National Championships (Girls and Boys);

Former Assistant Head Coach, SCVAA Cross Country Team (Girls & Boys);

Former Assistant Distance Coach, SCVAA Track Team (Girls & Boys);

Former Board Member, SCVAA Cross Country Board of Directors;

Former Board Member, SCVAA Track Board of Directors;

Running off & on since the late 70's with 5k to ultramarathon distance experience.
University of Southern California, MRED

California State Polytechnic University, BS

Cosumnes River College, AA
USA Track & Field – Certified Running Coach & Member

Road Runners Club of America – Certified Running Coach & Member

Santa Clarita Runners – Member

Wounded Warriors Project – Community Athlete/Proud Supporter

U.S. Olympic Committee – Supporter

Special Olympics – Partner/Supporter

Marine Toys For Tots Foundation – Supporter

USO – Sponsoring Member

Honor Society of Phi Kappa Phi – Supporting Member
A Few Words About
The
National Coaches Registry
"The USOC whole heartedly supports measures such as USA Track & Field's Coaches Registry, which lend legitimacy to coaches in good standing while also potentially protecting athletes from individuals with ill-intentions."

– Scott Blackmun, United States Olympic Committee CEO
" Coaches from all of our communities, which include college, post-collegiate, youth, high school and club, have completed the process to be a Registered Coach. We know the majority of coaches already live and work according to the Code of Conduct; the Coaches Registry helps the rest of the world understand that as well. "

– Terry Crawford, USATF Director of Coaching
" The Coaches Registry is part of our commitment to implementing 'best practices' that are on a par with the best-run sports in America. In the end, this is everybody doing what is best for athletes, coaches and our sport. It is our intent to work together with coaches in a positive and productive way to make sure we are serving them as well as our athletes ".

– Stephanie Hightower, USATF President & Chairman